Association REMPART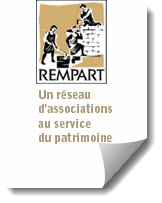 REMPART is a voluntary movement of heritage preservation and public education . The member associations of the Union REMPART all have in common the desire to restore and save an item of heritage and revive it .
Hence , they act in favor of local development and spatial planning , particularly in rural areas.
Through this action in favor of heritage , associations REMPART members combine a large number of men and women : the associative dynamics enables citizens to participate in a group project, useful to the community and is a place of learning , expression and recognition for individuals.

AQUA has joined this association to find volunteers who will give us a hand for the restoration of the ASTER during the summer.

Check out the page on the Aster on Rempart site by clicking HERE